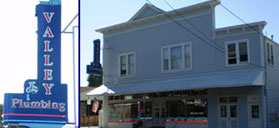 » About Us
» Showroom Pictures
» Videos
SAVINGS TIP
Saving Water
High-efficiency toilets (HET's) use 1.28 gallons per a flush (GPF). A family of four can save $150.00 on their next water bill. Times that up to 3 toilets per a house for a total of $450.00.

By replacing your old 3.5 gpf toilets can save 300 gallons of water a week, that's 15,600 gallons a year as a minimum. Contact us today to get all the information you need to make the right choice for your home.
About Us
Our History
Valley Plumbing Home Center, Inc.
is a licensed, insured and bonded company that has been servicing the Tri-Valley area for over 26 years. Established in 1982, we have grown from a family-owned business to a corporation with the same family feeling. Our company's motto "Integrity Before Profit", leads us in hiring people that care about their work and finished work performance. We service the complete Tri-Valley area for homeowners, property managers, insurance adjusters and commercial businesses. Our customers remember us and more importantly refer us to their friends, neighbors and business associates.
Mission Statement
To provide superior service to our customers through a commitment to the highest standards of quality, reliability and dependability and to thereby earn a reasonable profit, therein giving us the phrase "Integrity Before Profit."
To provide a safe, rewarding work environment for our employees based on a respect for individual achievement, loyalty and strength through patters of teamwork and communications.
To maintain high standards of integrity in building long-term, mutually beneficial relationships with working partners inside and outside of the construction industry.
Our Team