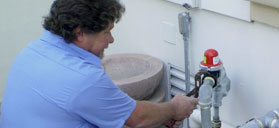 » Residential
» Commercial
» Bath Remodels
» Repipes
» Gas Lines
» Showroom
SAVINGS TIP
Saving Water
High-efficiency toilets (HET's) use 1.28 gallons per a flush (GPF). A family of four can save $150.00 on their next water bill. Times that up to 3 toilets per a house for a total of $450.00.

By replacing your old 3.5 gpf toilets can save 300 gallons of water a week, that's 15,600 gallons a year as a minimum. Contact us today to get all the information you need to make the right choice for your home.
Gas Lines
If you need a gas line repaired, replaced or a new line run for your gas dryer, gas cook top, gas fireplace, or outdoor bbq, we have the equipment and experience to do it right.  We use high-quality materials to give you the assurance of a quality job.  Polyethalyn is one of the materials we can use to give you a long-lasting, quality gas line.  This material is used when you are putting pipe in the ground.  Materials are less expensive than steel and they last a lifetime.
Flexible gas lines are also available. This material is mainly used in homes and buildings to help save in labor costs due to the ease of installation.Steel materials have been used in homes and buildings for the longest time due to its strength. We can provide cutting and threading of steel pipe up to 4" in size.  We are one of a very few companies that can do this type of job.


Experience Counts:
For over 25 years we have performed quality work for other companies like PG&E, AT&T and many others.  We have the licenses to work with polyethalyn and flexible gas lines, where other companies do not have the proper training to use these types of material to do the job correctly.
Valley Plumbing Home Center, Inc. is a leader in the field of gas piping.