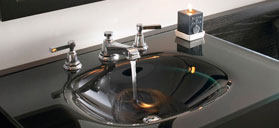 » Products List
» Sale Items
SAVINGS TIP
Saving Water
High-efficiency toilets (HET's) use 1.28 gallons per a flush (GPF). A family of four can save $150.00 on their next water bill. Times that up to 3 toilets per a house for a total of $450.00.

By replacing your old 3.5 gpf toilets can save 300 gallons of water a week, that's 15,600 gallons a year as a minimum. Contact us today to get all the information you need to make the right choice for your home.
Sale Items
From time to time we come across products that we need to clear from our stock for a new version or our supplier has given us an outstanding price for a product that we can pass the savings on to you. The following are some examples of just that type of thing. Visit our showroom and see what else we have to offer as specials not shown here.
Note: Product availability and prices subject to change without notice.
Current Sale Promotions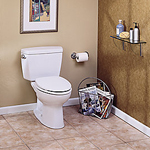 TOTO Eco Drake Two-Piece Toilet, 1.28 GPF, Round Bowl
Classic in design, this two-piece model offers our quiet and effective Gravity flushing system. A SoftClose seat or Washlet are available as upgrades. Features include:
- E-Max Flushing System
- Round Bowl
- Computer Designed, Fully Glazed Trapway
- Chrome Trip Lever
- Note: seat is not included
Regular price:
$380.00
Sale Price: $224.95
- Limited time only!
Contact us today about this item
Ask our sales professional about our installation services also available at a great price.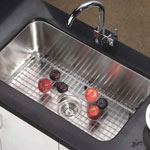 Dawn Stainless Steal Kitchen Sink ASU106
This sink is manufactured with 304 type stainless steel, 18% Chrome/10% Satin Nickel, a sturdy and beautiful design. Dawn Sinks come in top-mount and undermount styles and are available in 16, 18 and 20 gauge. Sink accessories, such as cutting boards, bottom grids, strainers and colanders, maximize the sink's work space and improve productivity in the sink area. All Dawn sinks are reinforced with Satin polished finish and noise reduction padding. We are offering a Stainless Bottom Grid #GO33 as a special with this sink for $74.95 Call or come to our showroom and talk with a sales professional for details on what we can do for you.
Regular price:
$400.00
Sale Price: $298.95

contact us about this item