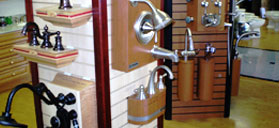 » Residential
» Commercial
» Bath Remodels
» Repipes
» Gas Lines
» Showroom
SAVINGS TIP
Saving Water
High-efficiency toilets (HET's) use 1.28 gallons per a flush (GPF). A family of four can save $150.00 on their next water bill. Times that up to 3 toilets per a house for a total of $450.00.

By replacing your old 3.5 gpf toilets can save 300 gallons of water a week, that's 15,600 gallons a year as a minimum. Contact us today to get all the information you need to make the right choice for your home.
Showroom
Our trained showroom staff can help you with your do-it-yourself projects.  We help guide you through the plethora of products that are available for your kitchen or bathroom projects.  We have trained experts to give you the insight to make an educated decision.  You can be comfortable knowing you have all the right answers to your questions.
Special orders don't upset us.  We are trained on where to search for some of the most unique plumbing parts and pieces.  Due to our background in service and repair, our showroom is a great resource for locating those hard to find items.
We display faucets for the kitchen and bathroom in just about every color and finish available.  We have many toilets, sinks, shower fixtures, vanities, grab bars and bathroom accessories on display, as well. On display also are several samples of cultured marble, onyx, and granite.  We also offer designer series cultured granite.
showroom hours and location: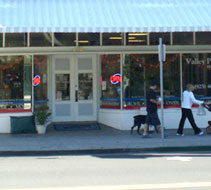 Visit us in
downtown Pleasanton
Monday through Friday 9-5 and Saturday 9-4.
We are closed on Sundays.
View photos of our showroom »