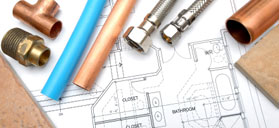 » Residential
» Commercial
» Bath Remodels
» Repipes
» Gas Lines
» Showroom
SAVINGS TIP
Saving Water
High-efficiency toilets (HET's) use 1.28 gallons per a flush (GPF). A family of four can save $150.00 on their next water bill. Times that up to 3 toilets per a house for a total of $450.00.

By replacing your old 3.5 gpf toilets can save 300 gallons of water a week, that's 15,600 gallons a year as a minimum. Contact us today to get all the information you need to make the right choice for your home.
repipes
If you have low water pressure, rusty water or frequent leaks, we have your cure. We have over 25 years of experience in repiping homes just like yours.  Chances are that we have repiped a home with your exact floor plan.
We provide free estimates to get the repipe process started.  Our proposals for repiping explain exactly what we are going to do, from replacing your pipes with copper or pex water pipes to sheetrock and texture once the repiping is complete.
Trenchless water service replacement or repair:
If you have a water main leak, we can replace your old service in some cases without digging up your front yard. With special designed equipment, we can give you a new water service with a minimal amount of mess and in a short time.
Leak location:
This is the process of using specialized equipment to find a leak on a gas line or water line. We do leak locations on a weekly basis. We use electronic sensing equipment to trace the problem pipe, listen to the pipe to find the location of your pipe leak. Now with the correct information, we can give you the options available to repair or replace the line in question.